Song: Punklezmerap
Artist: Eprhyme
Label: Modular Moods / Shemspeed
Eprhyme – Punklezmerap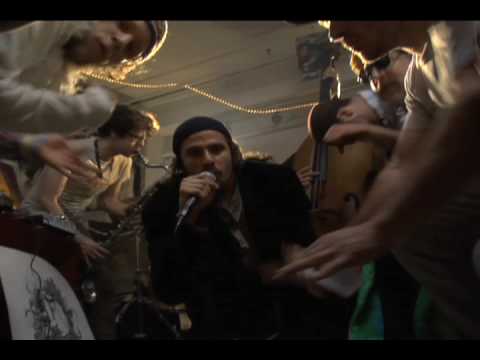 Sephardic salsa and Southeast Asian-Jewish standup. New music rituals and ancient inscriptions. Parades and jam sessions, world premieres and kid's music. This is a no-holds-barred party that does what America's premier Jewish music festival has done for 25 years: break down the walls between past and future, between multifaceted possibilities of Jewish culture and audiences at large.
The Bay Area's Jewish Music Festival marks its two and a half decades with a day of free outdoor festivities for all ages and background at the Yerba Buena Gardens on July 11, 2010, including instrument building workshops, instant choruses, klezmer jams, and performances running from kid-friendly to hip. "We want these outdoor events to celebrate the local Bay Area scene, where the klezmer revival started and where global music and Jewish music blend in our musically diverse community," explains Festival Director Ellie Shapiro.
In addition to the fun free-for-all, the Festival is presenting several groundbreaking multi-media, multi-platform performances, the edgy interpretation of Jewish roots that has become part and parcel of its mission. July will see the world premier of a commissioned music and dance piece by composer Dan Plonsey (Dan Plonsey's Bar Mitzvah); a strikingly sensual installation hinting at the secret lives of Babylonian women (The Bowls Project); and the rave-worthy, trans-Mediterranean electro-dance of Watcha Clan, direct from Marseilles, France.
New music composer Dan Plonsey has worked with everyone from avant-jazz legend Anthony Braxton to highly imaginative author Harvey Pekar, and has garnered extensive awards and fellowships for his innovative yet wryly grounded musical projects. Plonsey, who was raised in a secular Jewish family, had never undergone the ritual himself. Instead, he has composed Dan Plonsey's Bar Mitzvah, an exploration with choreographer Eric Kupers and the Dandelion Dancetheater of the meaning of ceremony and the transition to adulthood, commissioned by the Festival and premiering in association with the Contemporary Jewish Museum.  Avant garde dance veteran Anna Halprin will also be on hand July 8, 7 pm at the CJM for a special preview performance.
The Bowls Project takes ancient inscriptions from clay incantation bowls, buried to magical ends underneath Babylonian houses and incised with wishes and hopes from the mundane to the erotic. Jewlia Eisenberg, the vocal and conceptual dynamo behind the punk/funk/Balkan/Jewish group Charming Hostess, transforms these ancient inscriptions into a visual and sonic experience that interweaves the past—Babylon was a major center of Jewish culture at the time—with the present, today's Iraq; the spiritual with the personal. To invoke the bowls, the project unfolds in a dome structure, with the inscriptions projected on its interior thanks to video artist Shezad Dawood. Eisenberg will lead a workshop digging into the project earlier in the day, and then festival goers will be able to interact with the space independently.
The Silver Anniversary Festival season culminates on July 18, in association with Yerba Buena Center for the Arts and with the global electronica phenomenon Watcha Clan performing as part of their summer New Frequencies program. Their sound brings hard-hitting beats to North African, Sephardic, French, and just about every other Mediterranean groove imaginable. The band's high-energy performances are led by vocalist Sistah K, who celebrates and mutates her Jewish background into addictive and irrepressible calls to dance. Watcha Clan's multicultural take on roots parallels the Festival's own mission.
"The Festival's mission has always been to present music that both celebrates Jewish experience in innovative ways and engages the broader community," Shapiro reflects. "The outdoor events really explore what it means to be Jewish in the multicultural world and embrace what the Bay Area is about, as a hub of multicultural life." This hub is home to a rich mix of local artists who will be performing in the park and are shifting the boundaries of what it means to participate in Jewish culture.
Artists like Middle Eastern percussion master Dror Sinai or artists like singer Kat Parra, who was mentored by Patti Cathcart of Tuck and Patti but who dove into the salsa scene, opening for major acts like singer Celia Cruz. At the same time, Parra began uncovering her family's Sephardic roots, which she discovered worked beautifully with the Afro-Latin rhythms she had come to love. "It feels to me like a natural next step as the Sephardic music can be so vibrant and infectious in its melodies," Parra explains. "The melodies actually easily fit within an Afro-diasporic rhythmic context, as does the timelessness of the lyrics."
With another unexpected perspective on Jewish culture, comedian Joe Nguyen draws on his experience as a person of both Vietnamese and Jewish background, finding the funny side of his heritage in his funky hometown of San Francisco. Eprhyme and Joshua Walters add hip-hop to the mix.
The day in the park will also honor the Bay Area's unmatched contribution to Jewish culture—the 1970s revival of klezmer that jump-started two generations of innovative musicians. The old-school mastery of groups like the Red Hot Chachkas, recently lauded for their holiday performance with the San Francisco Symphony, which will pair perfectly with the younger innovators like KugelPlex, who bring in other global elements from Africa to the Balkans as they take on Jewish tradition.
Yet the party is about more than merely savoring Jewish music; it's about making it. That's why the July day in the park kicks off with an interactive, second-line parade led by the New Orleans Klezmer All-Stars founding member, Glenn Hartman, and with family activities like an instrument petting zoo with "zookeepers" from the Mission- based Community Music Center and an instrument making workshop at CJM that turns found objects into sonorous sensations that will feature in the day's closing parade. Veteran kid's music performers Ira Levin, Gerry Tenney and Elana Jagoda will keep the younger crowd in the mood.
Older participants will get a chance to burst into song as part of an instant chorus, designed by Jewish a cappella group Vocolot's Linda Hirschhorn to get even the rustiest of vocal chords harmonizing, or to polish their old-world licks as part of a klezmer jam session hosted by local klezmorim. "We've had a hundred people show up in the past for these jams," Shapiro laughs. "The sound was amazing."  In addition to the klezmer jam / workshop – there will be workshops on Middle Eastern modes (maqamat) and rhthyms.
"The interaction and the innovation is what the festival is really about," notes Shapiro. "As much as it's honoring the roots of Jewish culture, it's also pushing it forward and articulating whole new ways relating to it. While, of course, having a good time in the bargain."
Originally posted by: World Music News Wire